FLEXIN of HERO TECH NUTRITION is a food supplement based on 7 active ingredients including undenatured native Type - II collagen (UC-II®)), MSM, boswellia serrata, curcuma longa L. and hyaluronic acid. FLEXIN is also a source of vitamin C and manganese.

60 Capsules
GOOD FOR YOUR CARTILAGE AND CONNECTIVE TISSUE*
FLEXIN contains manganese and vitamin C. *Manganese contributes to the normal formation of connective tissue and to the maintenance of normal bones. *Vitamin C contributes to normal collagen formation for the normal function of cartilage and bones.
FLEXIN is completed with:
• UC-II® is a patented cartilage from chicken sternum including non-denatured native Type II collagen. FLEXIN contains 40 mg of UC-II® per recommended daily dose.
• Curcuma longa L. (CURSOL ™) is a patented extract of curcuma longa L. for joint function** and with a high solubility of 29.68%.
• Boswellia serrata for joint function**.
• Hyaluronic acid. Sodium hyaluronate is the sodium salt of hyaluronic acid with 95% hyaluronic acid. Hyaluronic acid is a high molecular weight polysaccharide (glycosaminoglycan) produced primarily by fibroblasts and other specialized cells of connective tissue.
• MSM It is an organic compound that contains sulfur (34%), highly stable, present in small amounts in a wide variety of fruits, vegetables, cereal grains, meat, eggs and fish.
It is important to maintain a varied and balanced diet and a healthy lifestyle. This product is a food supplement and therefore it is not a medicine nor is it intended to prevent, treat or cure any disease.

* These statements have been evaluated by the European Food Safety Agency (EFSA) and approved by the European Commission.
** Ministry of Health Italy: These effects, which can be used pending the definition of claims on botanicals, aim to optimize the functions of the organism in the context of homeostasis according to the model defined by the Council of Europe (Homeostasis, a model to distinguish between foods, including food supplements and medicines, 07/02/2008).
Methylsulfonylmethane (MSM), maltodextrin, bovine gelatin,  curcuma Longa L. extract (rhizome) 2,1% curcuminoids (CURSOL™), boswellia Serrata extract (resin) 65% boswellic acids 6:1, L-ascorbic acid (Vitamin C), sodium hyaluronate,  standardized cartilage chicken sternum powder [providing 10 mg of total collagen, including undenatured native type-II] (UC-II®), anti-caking agents (magnesium salts of fatty acids, silicon dioxide), manganese sulphate.
WARNINGS: Store in a cool, dry place. Heat and sunlight may damage the bottle. Keep out of the reach of children. Food supplements should not be used as a substitute for a balanced diet. Do not exceed the recommended daily dose. May contain traces of gluten, milk, egg, celery, soy, fish, molluscs and crustaceans.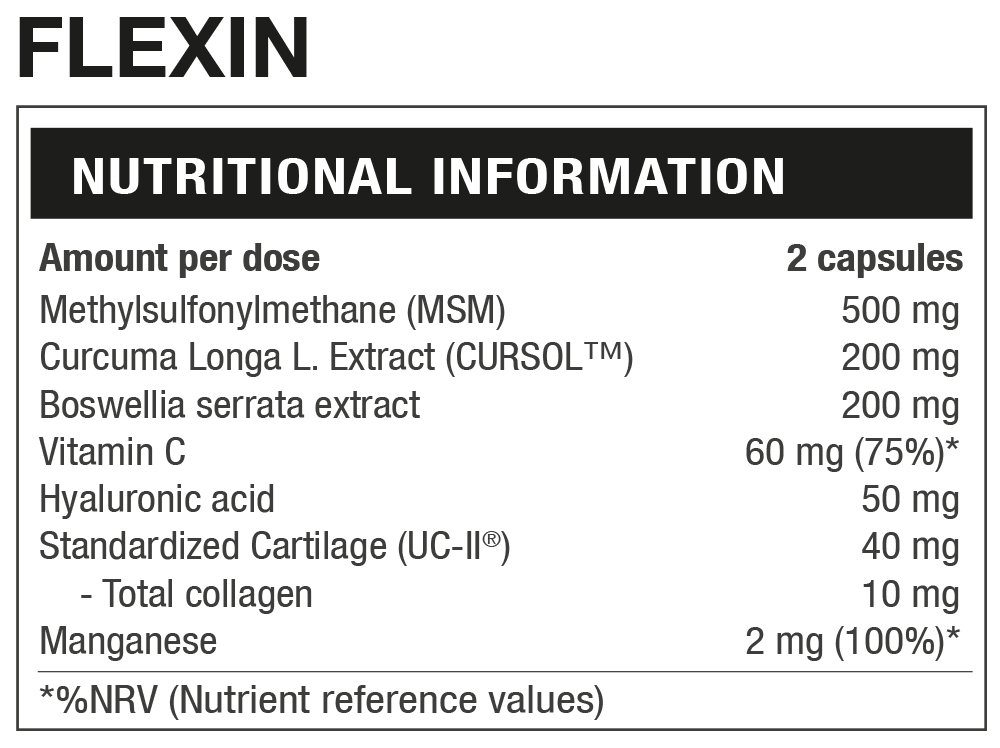 Take a daily dose (2 capsules) after breakfast.
Recommended daily dose: 2 capsules
Dose per container: 30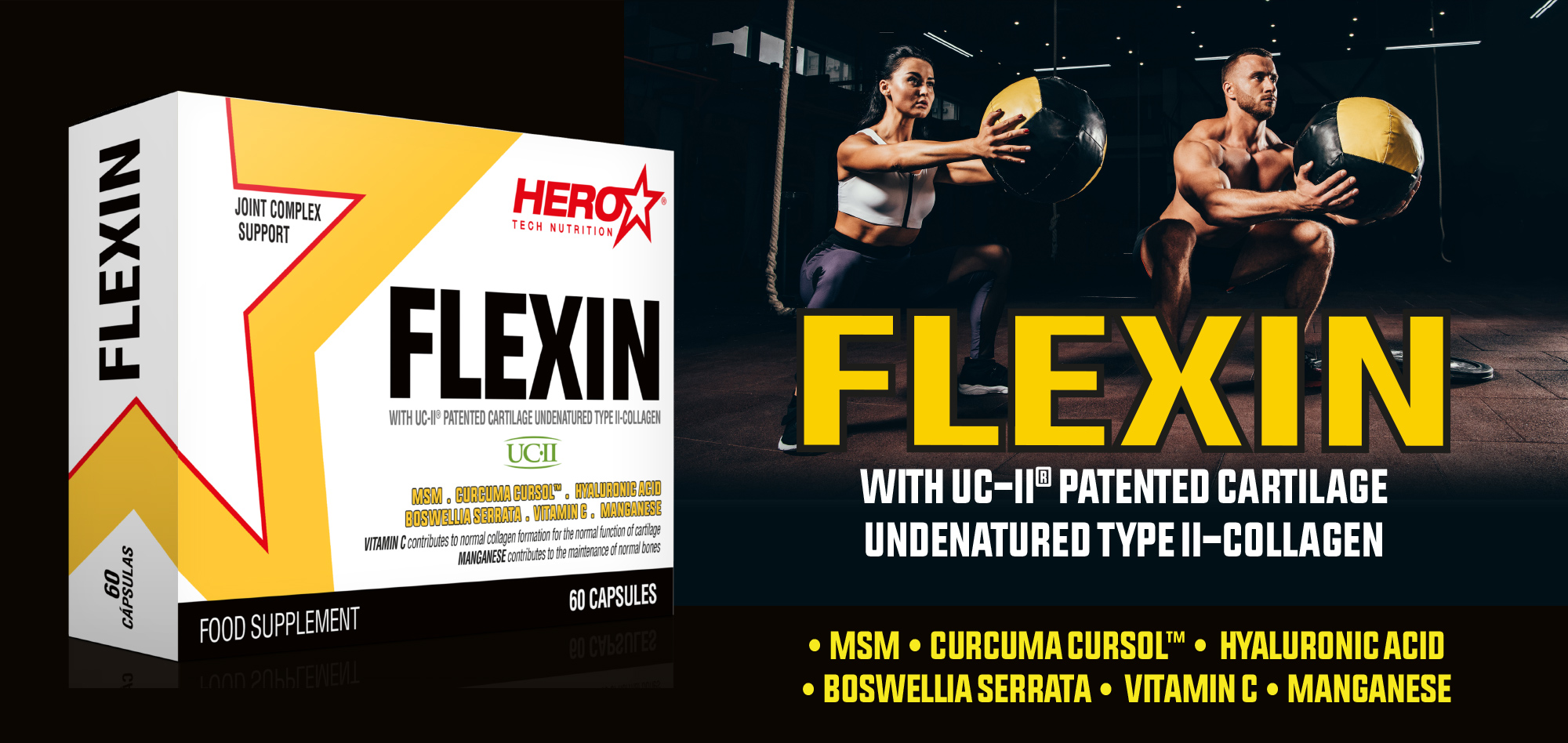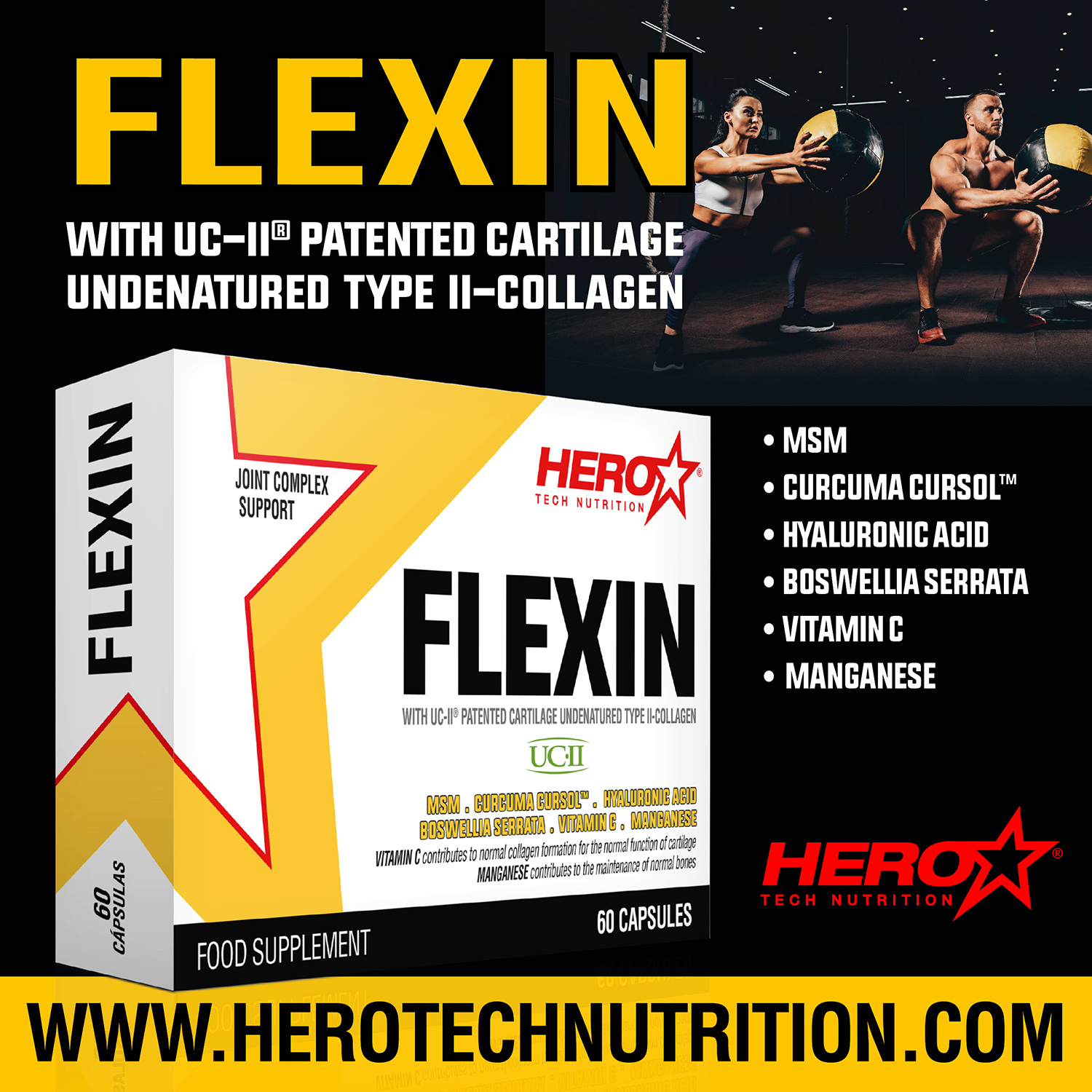 PROTEINS - AMINOACIDS - CARNITINES - WEIGHT CONTROL - FUNCTIONAL FOODS - INCREASE MUSCLE GROWTH - CARBOHYDRATES - VITAMINS AND MINERALS - SPECIAL PRODUCTS - JOINT SUPPORT - ENERGY BARS - PRE-WORKOUT - BOOSTERS